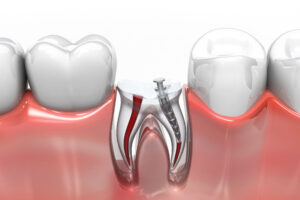 In order to properly care for your smile and ensure its health for life, you must take care to practice an involved and well-rounded preventive dental care routine. This often involves brushing twice a day, flossing in-between meals, and attending your routine checkups and cleanings. Even still, however, oral bacteria can cause issues, and without timely treatment, you may be facing a major concern. In today's blog, your Pella, IA dentist discusses the impact oral bacteria and infection have on your smile, and why it might be time to consider root canal treatment.
How Bacteria Infect Teeth Roots
Whether you are aware of it or not, every smile contains oral bacteria. Indeed, it is largely up to the level of your preventive dental routine to keep these microorganisms at bay, but bear in mind that it only takes coming up short in the process only once for them to wreak havoc on your healthy, natural teeth.
Indeed, one of the most common oral health issues out there includes tooth decay, a process that is initiated by oral bacteria producing destructive acids. These acids erode your enamel, which is the protective substance surrounding your teeth. It is also the only natural line of defense your smile has, and when it is gone, it is gone for good. As such, it is imperative you stay on top of your smile care and attend routine appointments when necessary to do so.
When bacteria have eroded enough enamel, a small hole will form known as a cavity. Your issues do not stop there, however, and without proper care, the situation will get drastically worse. To learn more about this process and how our team can help, give us a call today.
Salvaging Natural Structures
When infection that results from a cavity gets worse, what it does is work deeper and deeper into the inner workings of your tooth. Here, it begins to target the nerves that are housed in your roots, and you may begin to notice a number of signs and symptoms. These can include sensitivity, toothaches, and even difficulty eating, biting, and chewing. Contact our team today to learn more about this process and what your treatment options may be.
Making Time for Recovery
When you receive a root canal treatment, we will take care to remove the infected portions of dental pulp and fill the open cavities with dental material. Further, because of the level of damage that you have likely endured, bear in mind that your structure will take time to heal, so it is important you make appropriate time for recovery.
Learn More Today
Contact Allen & Neumann Family Dentistry in Pella, IA by calling 641-628-1121 to learn more about the need for root canal treatment to handle decay, and schedule your next appointment with our team today.