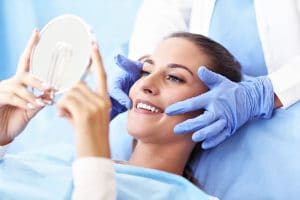 As one of the strongest parts of the human body, teeth are meant to endure a lifetime of biting, chewing, and more. While they may be durable and strong, they are not indestructible, meaning there may be circumstances in which reinforcement is required. Indeed, restorative measures such as a dental crown may be sought in order to reestablish strength. Whether you are experiencing decay, a threat to other teeth, or even broken or damaged structures, your Pella, IA dentist at Allen & Neumann Family Dentistry is here to help with an efficient treatment to restore your smile.
Severe Decay
Our grins endure a great deal of wear and tear over the years, from the foods and beverages we ingest to physical trauma we may endure and everything in-between. Making sure to practice excellent preventive care at home is the first step to achieving a lifelong smile, but understanding the circumstances that can cause harm as well is just as important.
Decay occurs when oral bacteria affect a tooth, causing deterioration and breakdown. These bacteria thrive in areas such as between structures, around the back molars, and even at the gum lines, as these are the areas that are most difficult to address. They secrete harmful acids that actively work to break down your tooth's healthy natural structure, and if left untreated, can result in severe decay and even tooth loss. As a solution to this problem, however, you may seek a restorative procedure such as a filling, dental crown, or even a root canal in order to clear any sign of decay and strengthen your natural structures.
When Other Teeth Are at Risk
One instance that may warrant reinforcement is if surrounding teeth are at risk. This can include a structure that has endured decay to the point that an extraction is necessary to preserve your oral health. While the diseased tooth has been removed, keep in mind that dangerous bacteria may still be present and you are more likely to experience further loss if a structure is not replaced.
Broken or Chipped Teeth
Another example of a time when it may be necessary to reinforce your grin includes if you experience a cracked or chipped tooth. In cases when the damage is not very severe, your dentist can utilize a dental composite to bond your tooth, making it whole once more and preventing bacteria from entering. As another solution, you may need a cap or crown that can be secured to the area with dental cement, protecting the natural structure from further damage while also reinforcing its strength.
Schedule Your Visit
Our smiles endure a lot, and every once in a while could use a boost in strength and protection. Contact Allen & Neumann Family Dentistry in Pella, IA by calling 641-628-1121 to schedule your visit with us or to learn more today.