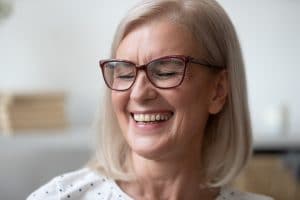 Your teeth are durable and resilient. They are built to stand up to a lifetime of use, as long as you take proper care of them. Even if there are some bumps in the road and you deal with cavities and root canal infections, your teeth are resilient enough to recover. That's thanks in part to the restorative dentistry technology available to your dentist. One tool in particular provides versatility and can allow your smile to recover from a number of different setbacks. Dental Crowns can be used to replace missing teeth, protect damaged teeth, and even provide a cosmetic improvement to your smile.
Dental Crowns Are Used with Dental Implants to Replace Missing Teeth
Tooth loss is a frustrating and painful experience. However, thanks to dental implants, it's possible to recover from this condition and regain the function of your teeth. Dental implants replicate the root structure of your natural tooth, and in some cases, they're even stronger. The implant is surgically placed in your jawbone and then topped with a dental crown. The dental crown serves as a lifelike replacement for your natural tooth— giving you a chewing surface and looking the part as well.
Dental Crowns Are Used to Protect Damaged Teeth
Dental crowns can also be used when your root structure is still intact. A crown is fabricated according to specifications from your mouth, so it will fit alongside your other teeth just like your natural tooth did. If your tooth becomes physically damaged in an accident, your cavity becomes too large to repair with a filling, or your tooth needs root canal therapy, a dental crown can help in every case. Just like with an implant, the crown is set on top of your shaped root structure, protecting your natural tooth from physical damage and future infection, and restoring your smile.
Dental Crowns Can Be Used for Cosmetic Effect
Dental crowns provide crucial functionality in the wake of tooth loss or damage, but they also provide cosmetic benefits. Your dental crown can be fabricated with ceramics that are shaded to match your natural teeth. The ceramic material also reflects light in a naturalistic way, further allowing your crown to blend in with the rest of your smile. If you have a tooth that is noticeably smaller than another tooth, or a tooth that has sustained surface wear that is unsightly, a dental crown may be used to create a more uniform smile.
Learn More About Dental Crown Options at Allen & Neumann Family Dentistry
At Allen & Neumann Family Dentistry, Dr. Jeffrey F. Allen, Dr. Denise E. Neumann, and our talented, compassionate staff are dedicated to providing high-quality family, restorative, and cosmetic dentistry services to patients of all ages. To learn more, or to schedule an appointment with Dr. Allen or Dr. Neumann, call our dental office in Pella, IA, today at (641) 628-1121.