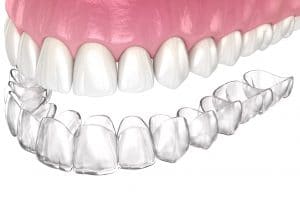 There's significant value in straightening crooked teeth with orthodontic treatment. Not only do crooked teeth affect your smile's appearance, but they can also negatively impact your long-term oral health, bite function, and more. Fortunately, orthodontic correction can help you avoid problems resulting from tooth misalignment, as well as improve your confidence and smile's appearance. For many people, choosing Invisalign® clear aligners can provide even more value to their orthodontic treatment than the use of traditional braces.
Stay confident throughout treatment
Of the many different consequences of crooked teeth, the way they affect your smile's appearance is the most notable one. Because of this, many patients may also hesitate to choose straightening them with traditional orthodontic braces. Out of necessity, traditional orthodontic treatment involved the use of brackets bonded to your teeth and arch wires to provide tension to move them. Orthodontic braces are highly effective, but they can also be highly noticeable. For many older teen and adult patients, this can create a concern about how their orthodontic treatment will affect their smiles' appearance. With Invisalign® treatment, teeth straightening is accomplished with the help of clear, custom-designed aligners, which are made specifically to remain discreet and virtually invisible throughout the course of your treatment.
Straighten teeth with greater convenience
In addition to the conspicuous appearance of orthodontic braces, the nature of having brackets bonded to your teeth can also create several challenges in your every day life. For example, brushing and flossing your teeth can require learning to clean effectively around your brackets and wires, without damaging them and interfering with your orthodontic treatment. Also, patients with traditional braces often have to alter their diets to exclude foods that could easily get stuck between them, or cause them damage. By contrast, Invisalign® aligners can be temporarily removed before you practice your hygiene routine or eat your favorite foods, making your overall orthodontic treatment more convenient.
Successfully correct multiple types of malocclusion
While there are some severe cases of malocclusion that could require the more comprehensive results of traditional braces, Invisalign® clear aligners can help patients overcome more types of tooth misalignment than they may expect. This is due to the highly detailed and digitally enhanced nature of designing and creating Invisalign® clear aligners. By being customized to meet each patient's unique orthodontic needs, Invisalign® aligners may be the best solution for your specific orthodontic needs, as well.
Learn more about the value of clear aligners
Compared to more traditional orthodontic braces, Invisalign® clear aligners can offer a much more discreet and convenient way to straighten crooked teeth. To learn more, schedule an appointment by calling Allen & Neumann Family Dentistry in Pella, IA, today at (641) 628-1121.