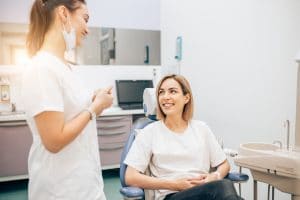 The same oral health guidelines apply to everyone, but that doesn't necessarily mean that everyone needs the same exact treatment. Cavities may seem to be a constant threat for some individuals, while others don't struggle with them at all. While the care that you give your teeth and gums affects their overall health, your genetics play a role as well. Everyone's mouth is a little bit different, so when it comes to choosing a dentist, you need to find a place where you can receive the care that is right for you. What does personalized dental care look like, and where can you find it?
Find a Dentist Who Will Get to Know You
In order to provide the best possible care for you, your dentist needs to know you. Are you someone who gets anxious when scheduling dentist appointments? Do you have a family history of gum disease? What is your schedule like, and when can you attend dental visits? These are little things that your dentist should get to know about you so that they can provide personalized care that has your best interest in mind. Having an open line of communication with your dentist is key when it comes to getting good treatment!
The Dental Care Environment Matters
Having a dental care professional that listens to you is important, and so is the environment in which you receive that dental care. Is your dentist's office sterile and univiting? Even if you receive good care in that environment, you're probably not exactly comfortable. This type of environment may also cause patients with dental anxiety to struggle while scheduling and attending visits. Finding a welcoming environment that caters to patient experience can actually help you follow through with your own oral healthcare.
You Should Be Able to Discuss Care Options with Your Dentist
Your dentist is an expert who can counsel and provide treatment to care for your teeth. If you ever have questions about that treatment — what the purpose of the treatment is, or what you could be doing at home to aid in the effectiveness of the treatment — talk to your dentist. Receiving personalized care means having a relationship with your dentist in which you feel comfortable asking questions and discussing different care options that are suited to your particular needs. Never be afraid to voice your own needs or concerns with a dental care professional.
Make Your Personalized Dental Care Appointment at Allen & Neumann
At Allen & Neumann, we are committed to providing personalized dental care for our patients. We understand the value that comes from getting to know our patients. We also provide a comfortable care environment that features pillows, blankets, and HD TVs for our patients. To schedule your appointment at Allen & Neumann Family Dentistry, contact our Pella, IA office at 641-628-1121.