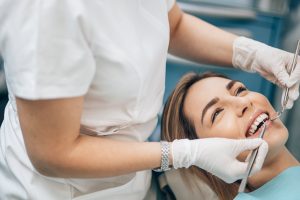 When it comes to maintaining a lifelong smile, preventive dentistry is the key. In fact, prevention plays a major role in strengthening and protecting your oral structures. A common misconception that many people possess, however, involves the notion that teeth are the only important aspects of oral health. Contrary to this belief, however, your health is comprised of all aspects of your oral cavity, including the gums, lips, tongue, cheeks, and throat tissues. In today's blog, your Pella, IA dentist will take a look at periodontal or gum concerns, and how ignoring the signs can lead to tooth loss and infection.
More than a Tooth Concern
Like we mentioned above, your oral health is comprised of much more than the integrity of your teeth. This does not mean that teeth are less important, just that there are more areas to consider.
Just as dental decay is one of the most common oral health concerns out there, roughly millions of Americans endure some form of gum or periodontal concern at least once in their lives. The gums serve a vital role in protecting your teeth, but when harmful bacteria target them, they can become infected and lead to functional complications as well as tooth loss.
When an individual experiences gum concerns, he or she can tell by paying attention to a few noticeable signs or symptoms. For instance, those experiencing gum disease will notice bleeding or inflammation in tissues, instances of alarmingly loose teeth or structures separating from the tissues that house them, and even teeth falling out on their own. If you suspect you are experiencing any of these signs, reach out to our team today to learn your options.
Everyday Oral Bacteria
Periodontal concerns often arise from hyperactive oral bacteria getting beneath the gum surface and forming plaque on your roots. But how do they get there to begin with? You see, when we consume foods, particles can become stuck in-between teeth. Without a method of dislodging them (such as flossing), bacteria gather to feed off of the particles and thus attack the gums. To learn more about this process, reach out to our team today.
Steps You Can Take
Making the effort to floss after every meal is an excellent means of periodontal protection. Once complications begin to arise, however, additional treatment may be sought to remedy the concern. This can include a periodontal cleaning, in which your dentist will carefully but thoroughly clean beneath the gums so as to remove the bacteria-laden plaque deposits. Following this, our team will smooth the surfaces of your roots so that future attachment is much more difficult.
Learn More Today
To learn more about gum health and treatment you can seek, contact Allen & Neumann Family Dentistry in Pella, IA by calling 641-628-1121 to schedule your appointment with our team today.