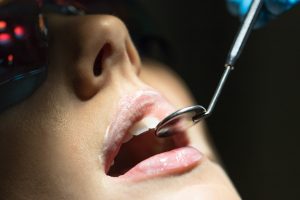 When was the last time you and your family visited our team for a checkup? If you undergo an exam every few months, you help keep your smile strong and healthy. In today's blog, your Pella, IA, dentist talks about what makes a checkup so important, and why you and your family benefit from them!
Seeing Us Every Six Months
We want to see you every six months for a checkup and a cleaning. Oral health issues like tooth decay and gum disease take time to develop, so a visit every few months means we can address these issues in the earliest stages, often reversing them and preventing major complications. These visits are recommended for not only teens and adults, but kids ages two and up. At each stage of life, there are unique issues that could complicate your oral health, and regular visits with the dentist can help safeguard the health, function, and beauty of your smile.
The Exam
The exam itself will involve our team taking a close look at your smile with digital x-rays and intraoral cameras. These systems offer highly detailed images, available instantly chairside, so we can walk you through the diagnostic process and identify possible concerns with greater precision and accuracy. We will watch for signs of tooth decay, gingivitis, and dental infection in smiles of all ages. For adults, we screen for oral cancer, watch for gum disease, and also assess the indicators of TMJ disorder and bruxism. For children, we want to make sure teeth are erupting and falling out properly.
Cleaning the Smile
A dental cleaning also occurs during this visit. The cleaning removes all plaque and tartar from the surfaces of your teeth. Otherwise, this bacterial buildup could increase the risk of cavities, gum disease, bad breath, and stained teeth. The process takes a few minutes, and then we polish your smile for a brighter appearance.
Preventive Treatments for Kids
For children, we could also apply a fluoride varnish during the checkup visit. Fluoride helps strengthen the outer enamel to lower the risk of cavities and keep smiles strong. If your little one has high risk factors for cavities, we could also place a dental sealant. This is a plastic coating we add to the rear teeth, which prevents food particles from becoming stuck between them. They stay in place for five to ten years, and wear away gradually with time. If you have any questions about these preventive visits, or if you want to schedule one for your kids, then contact our team today.
Do You Need a Checkup?
If you would like to find out more about how we keep smiles healthy and strong, contact Allen & Neumann Family Dentistry in Pella, IA by calling 641-628-1121 and schedule your next appointment with our team today.