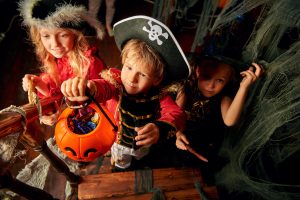 It goes without saying that common and uncommon phenomena alike can contribute to harm and destruction within your smile. In fact, there are more issues out there that pose risks than can be counted on two hands, which is why it is essential we put all the effort we can into our preventive dental care routines. Still, however, you may do everything right, but falling short in one area or another may be just enough to lead to a compromised tooth. In today's blog, your Pella, IA dentist takes a look at Halloween candy and other treats that negatively influence your smile, as well as what steps you can take to provide better care.
The Holiday Season
It's that time of year again folks! The holidays are just around the corner, which means time off from school and work, family gatherings, vacations, and lots of holiday favorites and goodies. Indeed, many people cite the last three months of the year as their favorite, and with the troubling past two years we have had due to the COVID-19 pandemic, many patient families are eager to celebrate the holidays as normal this year.
While you certainly deserve a break from this stressful time, keep in mind that too much of anything can still be bad, and this concept directly translates to the holidays. Halloween, for example, is often a kid favorite, as they can dress up as anyone or anything for one night out of the year and receive a bucketful of candy. While this sweet treat is alright every once in a while, it is easy to overconsume. This not only impacts your physical health but your oral health as well. To learn more about this process, give our team a call today.
Candy and Tooth Decay
Believe it or not, candy expedites the decay process. You see, oral bacteria are present in every smile, and an effective preventive dental routine is what keeps them at bay. If they are allowed to thrive, they will feed off of the foods you consume, which causes them to produce a destructive acid that wears away your enamel. Sugars in particular are a bacterial favorite, and as such, they catalyze the decay process. For more information about this step, contact our team.
What We Can Do to Help
Our biggest piece of advice when it comes to sugar consumption is to moderate it and keep it to a minimum. If you do consume sweets or candies, make sure to take care and brush your teeth after the fact so as to remove remaining sugars that may still be present.
Schedule Your Visit
Contact Allen & Neumann Family Dentistry in Pella, IA by calling 641-628-1121 to learn more about the need for sugar moderation and protecting your teeth, and schedule your next visit with our team today.