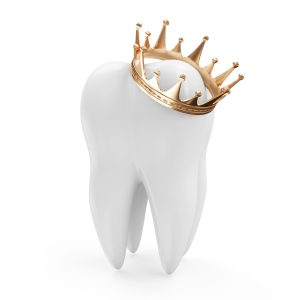 The last thing any person wants is to lose a natural tooth for good. Indeed, tooth loss is a common fear among patients, and the truth of the matter is, this is a reality for some. Failing to seek treatment when a dental concern is minor will always lead to the situation becoming worse, and if you wait too long, you may even face the possibility of needing an extraction or several. Fortunately, this is where restorative dentistry comes in to help. In today's blog, your  Pella, IA dentist discusses the need for dental restorations, as well as how crowns offer versatility in treatment.
The Need for Restorations
It goes without saying that dental prevention is the most important tactic used to achieve a healthy smile for life. As a matter of fact, everyone should be practicing a steady combination of brushing twice every day, flossing after meals, and attending their regularly-scheduled dental checkups. Keep in mind, however, that there are factors that may increase your chances of developing a dental concern, but if you attend your visits regularly, our team should be able to catch them and mitigate the damage as much as possible.
Though a well-rounded routine is ideal for a lifelong smile, sometimes we may become preoccupied and fall short in one or more areas. Unfortunately, this is all it takes for infection or some other complication to settle in. Before long, you could be facing the difficult news that you need a tooth removed, and worst of all, it will not come back. Fortunately, this is where dental restorations come in to help. To learn more about this process or to schedule your appointment with our team, give us a call today.
Many Purposes
Restorative dentistry consists of any treatment that aims to mitigate damage endured, eliminate the issue at its source, and reinforce your smile to protect against other major concerns. What's more? There are a variety of solutions that can be used for different stages of decay or infection, but none are more versatile than dental crowns.
Indeed, dental crowns consist of hollow caps that are placed over a tooth and shaped to fit snugly around it. They can protect against bacteria trying to get into the structure, as well as helps prevent infection from spreading.
Ensuring Proper Healing
Another major purpose of dental crowns includes their ability to promote proper healing practices. For instance, say you recently had a root canal procedure to salvage a severely infected tooth. In order to ensure it heals properly, your dentist may opt to place a crown over the structure.
Learn More Today
Contact Allen & Neumann Family Dentistry in Pella, IA by calling 641-628-1121 to learn more about the benefits of dental crowns, and schedule your next appointment with our team today.