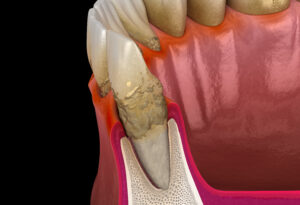 According to studies, at least 80% of the adult population in the United States suffers from some stage of gum disease. Without treatment, periodontal disease could grow in severity and eventually cause tooth loss! Fortunately, your Pella, IA, dentist can help you protect your smile and keep this serious disease at bay.
The Causes of Periodontal Disease
How does the disease occur in the first place? The issue starts with inflammation, also known as gingivitis. This occurs when the gums are inflamed and irritated, often due to poor oral hygiene that allows plaque buildup to develop and impact the gingival tissues. Other causes include a family history of periodontal issues, smoking and the use of other tobacco products, diets high in sugar and starch, dry mouth, the use of certain medications, and inflammatory illnesses. You will develop sore, red gums that bleed easily, and over time they will pull away from the teeth to form pockets for harmful bacteria to enter. While gingivitis can be reversed, gum disease cannot, and instead will need to be managed to prevent the advanced stage linked to adult tooth loss.
Preventive Care In-Office
Our team could help prevent the issue with regular six months cleanings, in which we remove all plaque and tartar and polish the teeth to prevent inflammation. Once inflammation develops, or the early stages of gum disease develop, then you will need a deep cleaning. With this procedure, we use an ultrasonic scaling device and a manual tool to remove all buildup from the surfaces of the teeth and the roots. We will nub the smile to keep you comfortable, and this could take between one and up to four visits, depending on the severity of your buildup. Afterward, we can offer routine cleanings every three to four months to safeguard your smile.
Preventive Actions at Home
At home, you can help with a better diet low in sugar and starch, which helps control plaque buildup. You also control plaque by brushing your teeth twice a day and more importantly, flossing every evening. These actions not only fight gingivitis and periodontal disease, but also tooth decay, dental infection, bad breath, and stained teeth.
If you have any questions about how to prevent or manage issues like periodontal disease, then contact our team to learn more. Now is a great time to make an appointment with our team, as you can use your benefits before they expire and before the holiday season makes your schedule a little too hectic!
Make an Appointment Soon!
We're ready to help your family enjoy optimal oral health. Contact Allen & Neumann Family Dentistry in Pella, IA by calling 641-628-1121 to learn more about how our team can help you avoid the onset of gum disease, and prevent the loss of your natural teeth!