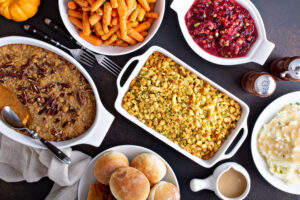 Do you have big plans for Thanksgiving, or for the upcoming holiday season? If so, these likely include a big feast at some point. While we enjoy these get-togethers too, we know that too much sugar and starch could lead to tooth decay. In today's blog, your Pella, IA, dentist talks about avoiding cavities!
Sugar and Starch
Many of our favorite Thanksgiving dishes, and other popular holiday meals, will contain lots of sugar and starch. For example, sugar is a mainstay for our cakes, cobblers, and pies. Starch is found in biscuits, muffins, sweet potato casserole, mashed potatoes, and even stuffing. These ingredients tend to attach themselves to the teeth and become trapped between them. As bacteria break down these bits of sugar and starch, they coat the teeth in a harmful layer of plaque. This buildup not only makes stains more visible and causes bad breath, but could lead to an increased risk of tooth decay. Which is moderation and good oral hygiene habits being necessary to keep your smile free of tooth decay.
Balancing Your Plate
First, try to eat these items in moderation and when you sit down, drink a glass of water with them to help rinse away trapped particles. You can also balance your plate with fresh fruits and vegetables. In fact, some items like fresh broccoli, carrots, and apples, could help scrub away particles as you eat them. When you're done eating, you can even excise yourself to floss.
Good oral hygiene hairs are also essential for keeping smiles healthy and strong. Even during the holidays, you need to start and end your day by brushing for two minutes with a fluoride toothpaste, as this helps remove particles and strengthen outer enamel. You also need to floss before bed too, which removes what is beyond the reach of your toothbrush.

Checkups and Cleanings
There is still plenty of time to see us for a checkup and cleaning! We will examine the smile to see if there are areas that need treatment, and then we can offer care before the year ends and before your remaining 2022 dental insurance benefits expire. We will also clean the teeth to remove all plaque and tartar from the surfaces of your smile. These actions help you start 2023 with a healthy and bright smile! If you have any questions about how to protect your smile from tooth decay during the holiday season, then contact our team today to learn more.
Schedule an Exam and Cleaning Soon!
Our team wants to help you enjoy your holiday and stay cavity-free. Contact Allen & Neumann Family Dentistry in Pella, IA by calling 641-628-1121 to learn more about avoiding aching teeth and tooth decay!