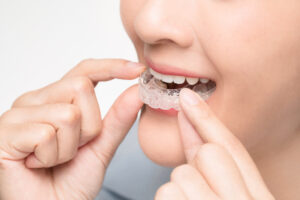 When you have stained teeth and want to brighten them before your next holiday event, then you may need professional teeth whitening. In today's blog, your Pella, IA, dentist can offer a solution with our custom trays and bleaching gel. You could obtain a smile several shades brighter in as little as a week!
The Causes of Teeth Stains
Why do our teeth end up stained? A number of different factors could be responsible. For example, lack of proper brushing and flossing and a diet high in sugar and starch means plaque and tartar buildup which can make stains more visible. Beverages with dark pigments, like tea, red wine, soda, and coffee, could stain the teeth, as could tobacco products like cigarettes. As part of your treatment, we will identify the cause and extent of your discoloration, so we can select the most appropriate treatment option.
Our Custom Trays and Gel
You will first come to our office so we can take detailed digital images of your smile, which we use to create a 3D computer impression. The impression enables us to design and craft a set of plastic trays, which fit gently over your teeth. We send these trays and syringes of bleaching gel home with you. At home each day, you will fill the trays with the gel and wear them for about an hour or two each day. The trays help ensure even results across your smile, and prevent the gel from being diluted by saliva. Optimal results take between one and two weeks, and for some this could mean smiles up to eight shades brighter. You then keep the trays and any bleaching gel for touchups in the months to come.
Keeping Teeth Bright
You can also take steps to keep your teeth bright. Often, these same measures help prevent issues like tooth decay and gum disease too! First, limit your consumption of sugary and starch-rich foods and drinks, and be sure you brush twice a day for two minutes. You also need to floss every evening too. Every six months, be sure to see us for a checkup and a dental cleaning too. These actions help fight plaque buildup and discoloration, while also improving your overall oral health too.
If you have any questions about teeth whitening, or about using your 2022 dental insurance benefits before they expire at the end of the month, then contact our team today to learn more.
Ready for a Brighter Smile?
We want to help you smile with confidence this holiday season with cosmetic dentistry. Contact Allen & Neumann Family Dentistry in Pella, IA by calling 641-628-1121 to learn more about obtaining a brighter smile with our custom gels and powerful bleaching gel!