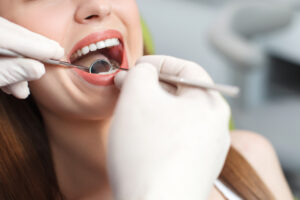 A dental exam is recommended for smiles of all ages, everyone ages two and older, every six months. Doing so helps keep serious concerns like tooth decay and gum disease at bay. In today's blog, your Pella, IA, dentist wants to talk about the benefits of your checkups and what to expect from these visits.
When You Need an Exam
The American Dental Association recommends one every six months, and we agree! If you haven't seen us in the last six months, then consider scheduling a visit for you and your family. Serious issues like tooth decay and gum disease take months to form and don't occur overnight. So a regular checkup is a chance to make an early diagnosis and provide treatment to protect your smile from discomfort and serious complications.
What Happens During Your Checkup
During your exam, we will use digital x-rays and intraoral cameras to carefully examine the smile and offer a diagnosis with precision and accuracy. These systems use a fraction of the radiation that traditional x-rays employ, and the images are available instantly chairside, so we can walk you through the diagnosis. Our team will look for concerns like tooth decay, infections, gingivitis, and gum disease. For adults, we screen for oral cancer and also watch for TMJ disorder and bruxism (teeth grinding). For kids, we will make sure that primary teeth are arriving and falling out as they should, and that permanent teeth have a clear path to eruption, to prevent misalignment. Our team then creates a personalized treatment plan to address these concerns and restore your smile to optimal health, function, and beauty once again.
The Dental Cleaning
In the same visit, our team will also thoroughly clean the teeth. The procedure involves the use of an ultrasonic scaling device and a manual tool to thoroughly and gently remove all plaque and tartar from the teeth. Doing so fights cavities and gum disease, but also offers fresher breath and brighter teeth too. We then complete the procedure by polishing your teeth, which makes it difficult for plaque and tartar to cling to the surfaces in between your cleaning visits. Our team will also take time to discuss good oral hygiene habits so you and your family can protect your smiles from home.
If you have any questions about how we conduct these exams and cleanings, or if you would like to schedule one for your family, then contact our team today to learn more.
TALK WITH A HELPFUL DENTAL TEAM IN PELLA, IA ABOUT OUR DENTAL EXAMS
With routine preventive care, we can help smiles of all ages stay bright and healthy. Give us a call at Allen & Neumann Family Dentistry in Pella, IA at (641)628-1121.