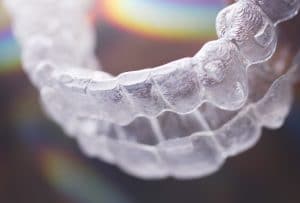 For a lot of older teen and adult patients who experience problems with the alignment of their teeth, braces aren't always the only option for correcting the problem. Increasingly more patients are benefiting from straighter and healthier tooth alignment with more discreet and convenient treatment thanks to the help of Invisalign® clear aligners. Using a series of custom, digitally designed aligners instead of conventional metal brackets and wires, Invisalign® is designed to help make your orthodontic treatment less obvious and less of a burden on your daily routines.
How do the aligners stay discreet?
Discretion is one of the most notable advantages of Invisalign® clear aligners over more traditional metal braces. The aligners don't just replace the more conspicuous brackets and wires of braces, they also remain virtually invisible due to their clear acrylic material and highly precise design. The clear, BPA-free acrylic that the aligners are made from allows your natural tooth structure to show through unobstructed. Also, because each aligner is precisely designed to fit over your teeth, they won't shift or move to give away their presence when you speak or smile.
Is the treatment process different than braces?
The nature of clear aligners makes the entire treatment process different than it is with traditional orthodontic braces. For example, with metal braces, the brackets are semi-permanently bonded to your teeth in order to be able to shift them. The arch wire that connects the brackets provides the gentle pressure needed to slowly and successfully realign your crooked teeth. With Invisalign®, the same time and care is needed when realigning crooked teeth. However, the continuous and gentle pressure needed to accomplish it is provided by the unique and highly precise design of your aligners. The series of aligners will be crafted so that each aligner guides your teeth through a predetermined phase of movement. When it's time to change the aligners for the next ones in the series, they'll continue the path of movement until you've completed your treatment.
What accommodations will you have to make?
The ability to use the same orthodontic principles as traditional braces, but in a more discreet and comfortable manner, is the basis for many of the advantages that come with Invisalign® treatment. For instance, not only will your treatment remain discreet, but you can also avoid having to make many of the accommodations that you would have to make with traditional orthodontic braces. This includes changes to your diet, which are unnecessary when you can remove your aligners before eating or drinking anything. You can also take your aligners off before brushing and flossing your teeth to avoid having to clean around your brackets and wires.
Find out if Invisalign® is a good fit for your smile
Invisalign® clear aligners can help many people with misaligned teeth enjoy straighter and more confident smiles, and without having to wear traditional metal braces to do it. To learn more, schedule an appointment by calling Allen & Neumann Family Dentistry in Pella, IA, today at (641) 628-1121.