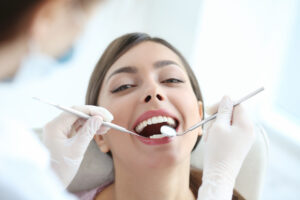 Be honest: When was the last time you visit the dentist for a checkup and cleaning? While these preventive visits may seem minor, they're actually crucial for keeping patients of all ages healthy and strong. In today's blog, your Pella, IA, dentist talks about how our team protects your family's oral health with a dental exam and cleaning appointment.
The Checkup Process
The dental exam should happen about once every six months, starting at around age two for kids, and should continue throughout adulthood. The exam is a chance for our team to take a very close look at your smile, watching for the earliest signs of trouble. We then correct these concerns and protect your smile from painful complications and the risk of tooth loss. For example, we can use digital x-rays and intraoral camera images to assess the earliest stages of cavities, infections, and even gingivitis and gum disease. We look for indicators of TMJ disorder and bruxism (teeth grinding), and for kids, make sure baby teeth erupt and all out on schedule, and that permanent teeth can arrive without complication. If do discover signs of trouble, we can offer treatment to restore the health, function, and beauty of the smile.
Oral Cancer Screenings
For adults, we can also screen for oral cancer during these visits. Oral cancer is a widespread and serious issue with over 53,000 people diagnosed each year. However, of that number half will succumb to the disease within just five years. Then inability to obtain an early diagnosis is a major factor in this high mortality rate, which is why we urge people to see us regularly for checkups in order to receive a screening. If we find potential cancerous or precancerous areas, we can refer you to a specialist.
Dental Cleanings
In the same visit, our team will also clean the teeth. A dental cleaning helps people of all ages, and allows us to completely remove all plaque and tartar buildup with an ultrasonic scaling device and a manual tool. We then polish the teeth for a brighter appearance. Not only does this brighten teeth and freshen the breath, but the procedure also lowers the risk of cavities, gingivitis, gum disease, and other serious oral health issues. Scheduling a visit now means you can use your dental benefits before they expire, and start a new year with a stunning new smile!
If you have any questions about our approach to preventive dentistry, then give our team a call today to learn more.
Schedule a Visit Soon
Contact Allen & Neumann Family Dentistry in Pella, IA by calling 641-628-1121 to learn more about the importance of your routine preventive treatment options and how we help your family enjoy optimal oral health.