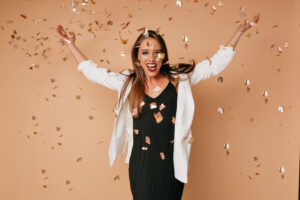 New Years is just a few days away! Have you started thinking about resolutions? If so, you should consider your smile. With a few improvements to your daily routine, you can keep cavities and gum issues at bay. In today's blog, your Pella, IA, dentist can help you choose some good smile-healthy resolutions.
Improve How You Brush
Let's get started by talking about proper cleaning habits. You should brush your teeth first thing in the morning and then again at night. Each session should take at least two minutes, and you can time yourself with a sand timer, song, or even a video. Kids especially benefit from a song or video to brush along with. Make sure your toothbrush has soft bristles, as many people brush too hard and using medium or hard bristles could mean enamel damage or gum recession. You can go with an electric or manual toothbrush, as both are effective. The toothpaste you choose matters too! Go with one that contains fluoride, as this helps strengthen the outer enamel and prevents tooth decay. Kids three and younger need to use a rice sized amount, and everyone over the age of three needs a pea-sized amount.
Floss Every Day
You need to take time to floss daily as well. When you floss, you clean the portions of your smile beyond the reach of a toothbrush. You should move the tape up and down each side of every tooth, dipping below the gum line when you do. This helps extract trapped particles and lowers the risk of gum inflammation and even gum disease in the future. As soon as kids have teeth sitting next to one another they need to floss as well. For younger kids, a floss pick is often easiest to use.
Your Diet
Watching what you and your family eat is beneficial too. Too much sugar and starch in your diet could be a recipe for tooth decay as harmful oral bacteria consume these particles and create plaque and tartar buildup. The buildup then leads to tooth decay or even the onset of gum disease. Be sure to add more fresh fruits and veggies, and plenty of water, to your diet.
Checkups and Cleanings
Finally, you should see us every six months for a checkup and cleaning visit, which helps us protect your smile from poor oral health and major complications. If you have any questions about protecting your smile in 2023, then contact our team today to learn more.
Do You Need to Schedule a Visit?
You can make a few simple changes to keep your teeth and gums healthy and strong. Contact Allen & Neumann Family Dentistry in Pella, IA by calling 641-628-1121 to learn more about protecting your oral health!